Below are some simple steps to insert video from YouTube.
If you do not have a account with YouTube, here is what you can do.
Step 1:
Go to
www.youtube.com
Step 2:
Click on "Create Account" & the system will guide you thru the registration. Registration is free.
Sign In to YouTube with your Username & Password. After your successful login, you may wish to save it in "Favorites" of your web browser for future login.
--------------------------------------------------------------------------------------------------------
For uploading of video to YouTube...
Step 1:
To upload a video which you've created, simply click "Upload" as shown.
Step 2:
If you've saved your video file into your computer, click "Upload Video"; else click "Record from webcam" if you wish to transfer your video directly from your Digital Camera/VideoCam.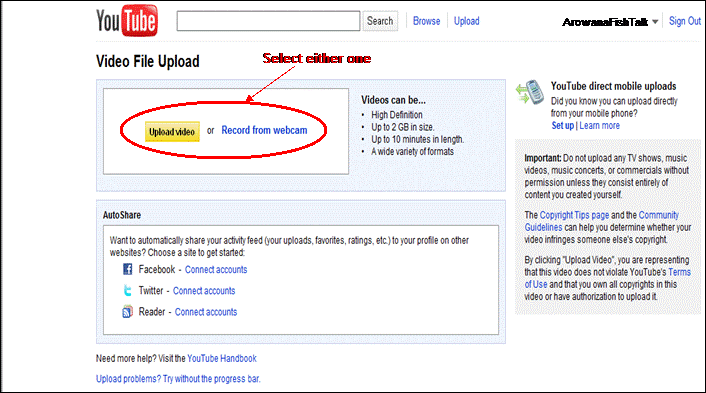 Step 3:
To download a video clip, click on the "Share" button to retrieve the video link (URL). This button can be seen right after the end of each video clip.
Step 4:
Copy the entire URL as shown.
Step 5:
To insert the URL from YouTube to ArowanaFishTalk (AFT), click on the "Insert Video" tag as located in the Post's panel .
Step 6:
You will see a "Insert Video Clip" window pop out prompting for URL link. Right click to paste the link into the window. Click "OK" to proceed.
The followings are the supported video hosting websites: Hulu, YouTube, Vimeo, Dailymotion, Metacafe, Google, facebook.
Step 7:
The final product will look something like this
The End.